Fotona's SP line of laser systems are designed to perform all major aesthetic treatments. By combining two complementary laser wavelengths Fotona SP lasers function as highly versatile, multi-purpose systems that can perform an exceptionally wide range of applications in aesthetics, surgery and gynecology. Fotona's Nd:YAG wavelength is effective for reaching the deepest layers of the skin, while the Er:YAG wavelength is ideal for brushing away surface imperfections to reveal visually attractive, long-lasting results.
Highest Performance Aesthetic Treatments
Fotona's gold-standard Nd:YAG laser technology provides the power and performance needed to handle a wide range of aesthetic applications, from skin rejuvenation and hair reduction to acne, vascular treatments and much more. The Nd:YAG laser on the SP line supports Fotona's high-speed L-Runner Pro and S-11 Nd:YAG Scanner for ultimate procedural speed, safety and efficiency in large-area treatments. Moreover, the revolutionary new ultra-long-pulse Fotona PIANO mode enables deeply penetrating Nd:YAG bulk heating while simultaneously keeping the epidermis safe and comfortable.
The SP line also unleashes the power of 3rd generation Er:YAG laser skin resurfacing, with precise, micron layer-by-layer ablation control. With functions ranging from superficial to deep peels, from non-ablative to fully ablative and from full-field to fractional resurfacing, treatments can be tailored to any specific skin condition to achieve exceptional results. Patented solutions such as VSP (Variable Square Pulse) technology and the latest Fotona SMOOTH mode feature are just a few of the characteristics that make the SP line the cutting edge of Er:YAG laser technology.
QCW Mode for Surgical Applications
In addition to its high performance infrared Er:YAG and Nd:YAG lasers, the SP line also includes one of the most powerful infrared QCW (Quasi Continuous Wave) Nd:YAG surgical lasers on the market.* Surgeons have long preferred infrared lasers due to their unmatched efficacy, simultaneous disinfection ability and outstanding clinical results. With Fotona's specially designed surgical handpieces, the SP line offers the ideal performance characteristics and infrared wavelength combination for an exceptionally wide range of surgical treatment options.
The QCW Nd:YAG wavelength is ideal for a broad spectrum of surgical applications, from high-precision cutting and tissue excision to more advanced endo procedures, such as laser lipolysis, endovenous laser ablation, and more. The complementary Er:YAG wavelength enables extremely precise surgical ablation, without scarring or sutures. Treatments are faster and less invasive than traditional techniques, and the SP line's user-friendly interface and customizable memory presets will make every surgeon's work easier and less stressful.
Optional Accessories for Gynecology
Fotona's SP lasers are star performers in the field of gynecology thanks to their proven ability to perform an impressive range of non-contact, non-invasive procedures with greater patient comfort, reduced downtime and quicker healing. The Er:YAG laser is highly useful for the treatment of lesions of the uterine neck and vagina, as well as HPV lesions, pigmentations and neoplasias. Because of its unique disinfecting capability it can even be used on infected tissue. The Nd:YAG laser wavelength is used for soft-tissue surgery, such as laparotomy, laparoscopic and hysteroscopic procedures, as well as for cosmetic gynecological procedures. Together, the SP line's complementary laser wavelengths are enabling a broad spectrum of treatment possibilities, including completely new approaches for effectively healing most common gynecological problems.
Engineered for Ease of Use
Achieve perfection in clinical results while enjoying unmatched speed and efficiency: the SP line features an intuitive, easy-to-use-interface with customizable memory presets to help every practitioner work faster and more effectively. Professionally designed handpieces, easy-to-select operating modes and many other advanced features further enhance the precision and performance of each Fotona laser system for optimal clinical efficacy and unrivalled control during treatments.
Two Models to Choose From
SP Dynamis is a uniquely capable and full-featured system offering the power of the industry's highest performance Er:YAG and Nd:YAG lasers, designed for the widest range of applications in aesthetics and dermatology. The SP Dynamis also includes an additional surgical QCW Nd:YAG laser for edovenous laser ablation, lipolysis, and other surgical procedures.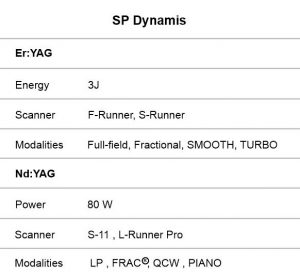 Optimal Wavelength Combination – for Superior Results
The SP line's high-performance Er:YAG laser inherently ablates the skin surface more precisely than other laser technologies. Er:YAG energy is highly absorbed in water – the main target chromophore for skin resurfacing – and can thus vaporize skin with micron-level precision and very little thermal conduction. This keeps undesired effects such as hypopigmentation and persistent erythema, as well as recovery time, to a minimum. Fotona's proprietary VSP (Variable Square Pulse) technology in the SP line can be accurately tuned from varying "cold" ablation to "hot" and non-ablative thermal ratios. Full customizability allows you to precisely attain the clinical outcomes your patients desire.
Fotona's Nd:YAG laser perfectly complements the Er:YAG laser's ablative action with its ability to penetrate deeply into skin to create thermal effects without damaging the skin surface. Its homogeneous absorption in skin and low absorption in melanin allow it to be safely used with all skin types. Compared to conventional technologies, Fotona's proprietary Nd:YAG VSP pulses create virtually instantaneous temperature increases that are limited to the targeted structures only.
Patented Solutions – for Ultimate Safety and Precision
Fotona's exclusive VSP and EFC technologies in the SP line give you the peace of mind that the parameters selected are being safely and precisely delivered by the system throughout the entire treatment session, providing unmatched safety and confidence in the system's ability. And with the SP line's high power-generating capacity, optimal procedure speeds and efficiency are reached at only a fraction of the system's maximum capacity, ensuring higher system durability and lower operating costs.
Innovative Pulse Modes – for Higher Performance
State-of-the-art scanners and fractional options make Fotona's mult-application SP lasers a truly comprehensive solution for your practice. Fotona's TURBO mode for high-definition fractional treatments and Fotona SMOOTH mode for high-speed, minimally-ablative coagulation regimes provide new levels of treatment possibilities. Like using an artist's palette, you can precisely mix and match cold ablation and thermal effects to achieve perfect results.
In addition, the Nd:YAG laser also enables FRAC3® non-ablative rejuvenation treatments – a breakthrough fractional approach in anti-aging and aesthetics in which the tiniest age-related skin inhomogeneities are treated with a minimum of damage to the surrounding skin, ensuring superior results and quicker recoveries.
Advanced Handpiece Technology – for Unrivaled Control
Designed with the highest quality biocompatible materials such as titanium and gold, Fotona's innovative handpiece technology optimizes the delivery of laser pulses to the treatment area.